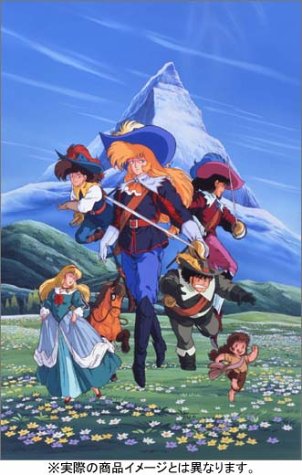 Η ταινία αυτή αποτελεί συνέχεια του anime "Anime Sanjushi" (1987-89), ή αλλιώς "Οι τρεις σωματοφύλακες", το οποίο βασίστηκε στο ομώνυμο έργο του Αλέξανδρου Δουμά.

Κεντρικός ήρωας είναι ο Aramis. Ανακαλύπτουμε για το τραγικό του παρελθόν, καθώς και για το πως πήρε την απόφαση να ενταχθεί στους τρείς σωματοφύλακες. Συνομωσίες, μυστικές συμβάσεις, δολοφονίες και καλά κρυμμένα μυστικά, γεμίζουν αυτή την, 46 περίπου λεπτά διάρκειας, ταινία. Απολαύστε μαζί μας αυτό το release, το οποίο φέρει τη γνωστή ποιότητα και την υπογραφή της AnimeClipse.

Περισσότερα εδώ!

This movie is the sequel of the anime "Anime Sanjushi" (1987-89), also known as "The Three Musketeers", which was based on the famous novel "Les Trois Mousquetaires" by Alexandre Dumas.

The main character of this movie is Aramis. We learn things about his tragic past, as well as why he decided to join the three musketeers. Conspiracies, secret conventions, murders and well-hidden secrets, are revealed in this 46-minute movie. Enjoy this release, which carries the quality and standards of AnimeClipse, with us.

Read more here!

-Nick7LF-

Get it from AnimeClipse!